60 Second Interview With Danny Maher
Welcome to June's 60 Second Interview. Here you can find out all you need to know about the Pre-Sales and Professional Services function at HANDD Business Solutions from one of the industry's most impressive Pre-sales Managers, Danny Maher. We asked him…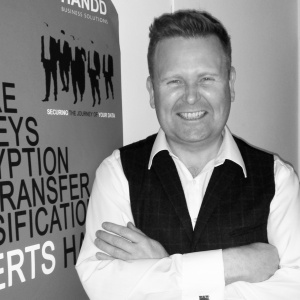 Q: What does it say on your business card?
Danny Maher, Pre-Sales Manager at HANDD Business Solutions
Q: Tell us a bit about you?
I like Rugby, Football, Cycling and I am currently walking around the coast of the entire UK for Parkinsons UK. I have worked for HANDD for nearly 5 years.
Q: Tell us about HANDD?
HANDD was founded in 2006 as an MFT supplier by Ian Davin and Anthony Hodges – that's where the name comes from, it's 'H and D'. We now have offices in the UK, Singapore and Malaysia and have become integrators and thought leaders embracing the strap line 'Securing the journey of your data'. We still operate in a niche sector of the I.T Security market but we deliver comprehensive Data Security strategy as well as Managed File Transfer solutions to a global client base including some of the biggest brands and companies in the world. Our services include DLP, Data Classification, IRM, Smart Encryption, SSH, Managed File Transfer and Cloud based Security solutions.
Q: What is your biggest achievement so far at HANDD?
Changing the direction of the company with the introduction of Data Classification into our portfolio and subsequently winning and working on some of our most exclusive customer projects.
Q: What are your goals for the Company?
To find and introduce new cutting edge technology, grow our portfolio, advance the Pre-Sales team and steer the company towards being globally recognised experts in Data Security.
Q: How do you overcome your competitors?
We are committed to providing a complete end-to-end solution. From free file transfer resources to complete lifecycle management, we aim to provide all the help and support our customers' needs. We are regularly asked to write and Score Customer Tenders, RFQs and RFPs and then act as independent consultants advising customers as part of their evaluation team. Our team of technical experts are available to review existing architecture and infrastructure within a business and help to find the solution that best fits their requirements. Our installation offering is equally as flexible – we create an installation plan and deployment type that suits our customer requirements, including onsite installation, hosted services, and Software-as-a-Service (SaaS). Beyond installation, we provide training and awareness programs that ensure everybody knows how to use the solution and we continue to support our clients for the lifetime of their installation, offering a technical support and continuing to share our expertise, helping our customers to identify new and improved solutions as they become available. We have sole UK distribution status with several of our Vendor partners and it's because of our experience, expertise and services that we achieved this.
Q: What do you like most about working in this industry?
It's constantly evolving and changing with the introduction of new technologies. It interests me and I find it exciting.
Q: How do you create value for your customers?
Providing end customers with a solution that fulfils their known requirements is one way, but I believe the best way that I add value to end customers is by educating and raising awareness about issues they may not have even considered in their industry. With unrivalled insight across a wide customer base spanning multiple verticals I am able to demonstrate an understanding of a wider range of specific vertical issues from compliance to risk etc.
Q: How should potential Customers contact you?
Telephone on +44 (0)118 9765 925, Email me at danny.maher@handd.co.uk, look me up on LinkedIn or Skype me @ danny.maher_dit