4 Stages of Crypto-Ransomware
You've heard the terms; you know the threats. But is your network and your data protected against the next one?
Article by HANDD Business Solutions Partner iSheriff, June 2015.
Crypto-style infections have been growing and today constitute a large part of the cyber threat landscape. They are a form of cyber extortion that is often successful and they will likely continue as long as there is money in them.
The first step in stopping these threats is understanding how they work. iSheriff has created an infographic that details the stages of a crypto ransomware attack. Once you know the problem, you can effectively combat it. iSheriff is a leading cyber security firm dedicated to delivering "Security Made Easy" to our customers around the globe.
Understand the crypto threat. Download the inforgraphic now – simply click the image below.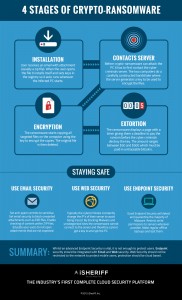 About HANDD
Founded in 2006 and now with offices across the globe, HANDD Business Solutions are integrators and thought leaders embracing the strap line 'Securing the journey of your data'. Operating in a niche sector of the I.T Security market, HANDD exists to deliver Data Security and Managed File Transfer solutions to a global client base including some of the biggest brands and companies in the world.
For more information on our products, or to discuss your Data Security project requirements, contact HANDD Business Solutions on 0845 6434063 or email sales@handd.co.uk.