Website Security Risk Check – The 'RiskCheck' Report
An essential resource
One of our essential resources, the free Website Security RiskCheck Report from WhiteHat Security draws anonymous website data collected from organizations comparable to yours to create a custom risk profile of your Web Applications based upon your survey input.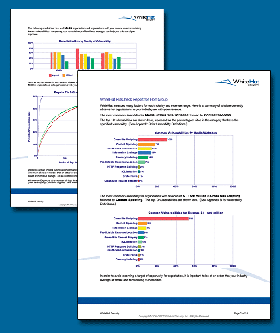 RiskCheck survey results use real time data and are matched against other organizations in your industry of the same size. Your custom RiskCheck report will provide insight into how your website security stacks up against other organizations of the same caliber.
It is important to note that this website security risk check is completely non-invasive. Your website is not scanned. 'RiskCheck' instead uses anonymous data collected from comparable organisations websites, ensuring an accurate risk assessment without the invasive nature of common website security scans and risk checks .
Get your Website Security RiskCheck Report now! →
Other Essential Website Security Resources
Over a billion people worldwide bank, shop, buy airline tickets, and perform research using the World Wide Web every day. With each transaction, private information, including names, addresses, phone numbers, credit card numbers, and passwords, are routinely transferred and stored in a variety of locations. Trillions of dollars and billions of personal identities are at stake every day. In the past, security professionals thought firewalls, Secure Sockets Layer (SSL), patching, and privacy policies were enough to protect websites from hackers. Today, with prominent Web attacks taking place every day, the industry knows better. Read more →
The WhiteHat Website Security Statistics Report provides a one-of-a-kind perspective on the state of website security and the issues that organizations must address to avert attack. WhiteHat has been publishing the report, which highlights the top ten vulnerabilities, vertical market trends and new attack vectors, since 2006. The WhiteHat report presents a statistical picture of current website vulnerabilities, accompanied by WhiteHat expert analysis and recommendations. WhiteHat's report is the only one in the industry to focus solely on unknown vulnerabilities in custom Web applications, code unique to an organization, within real-world websites. Read more →
Discover how effective and how secure your current website security is with SecurityCheck. This WhiteHat Sentinel evaluation service is now available as a free, 30-day trial. You will have unlimited access to WhiteHat Sentinel in order to review results, generate reports and share findings with your developers and security management team.
These days, you never know where website attacks will breach your defenses – from within your custom website code, third-party services providers, you name it.
The WhiteHat SecurityCheck will assess the real-time risk of your site, identify vulnerabilities and report the results – along with an action plan for keeping your site 100% secure – continuously. Read more →