File Transfer Solutions
Your Data, Wherever You Need It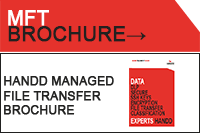 Whether you are a multinational business with a need to transfer data internally, or an organisation that collaborates with external partners, you need to move data quickly, efficiently and securely.
Think of file transfer as a hierarchy with Managed File Transfer at the top in terms of breadth of features, encompassing a range of file transfer solutions. HANDD offer them all.
Explore our file transfer solutions below, or contact us for more advice on the best solution for your enterprise.
Encompassing secure, automated and ad-hoc file transfer, managed file transfer (MFT) offers the widest feature set of any file transfer solution – From one point of control, you can establish a comprehensive system of file transfers that gets your data to where it needs to be in quickly and securely. Read more →
Some enterprises need their users to drive data transfers on-demand. Most commonly, these transfers are via email – Ad Hoc File Transfer solutions allow your users to send messages and files as secure packages. Recipients receive identifying links to download data securely, while your users continue to work in software that is familiar to them. Read more →
Why spend your time concentrating on manual file transfers? Focus on your wider IT infrastructure and business processes, not moving data – Automated File Transfer solutions allow you to schedule transfers for specific times and intervals, or configure workflows to transfer and process data when certain events occur. Read more →
Whenever data is on the move, it is exposed to a wide variety of security threats. It is your obligation to protect data suitably while it is in transit – Secure File Transfer solutions allow you to send and receive encrypted files through secure protocols, reducing your exposure and protecting your sensitive data. Read more →
Deploying a managed file transfer solution internally requires capital expenditure. Let our infrastructure work as an extension of your own – A Hosted Managed File Transfer solution offers all the benefits of secure managed file transfer, but hosted in our public cloud. It's the same great security, without the upfront cost and on-going maintenance workload. Read more →
An SSH secure file transfer solution uses SSH keys to authenticate access. Unfortunately, this means managing and administrating each of these keys across your business and external partners – An SSH Key Management solution centralizes your key management, allowing you to improve visibility, automate key creation, and identify outdated keys that may present points of weakness. Read more →
A File Transfer solution allows you to collaborate and share data securely and safely with your internal and external partners. But, by maintaining the highest standards of security and data handling processes, managed file transfer also helps you to meet the demands of compliance – We can provide not only the software solution but also the expertise that you need to satisfy your auditors and achieve compliance.
Read more →
File Transfer Software Solutions
With so many file transfer solutions available, choosing one can be a complex and time consuming process. HANDD partners with specialist vendors to offer a range of file transfer solutions. Putting solutions head-to-head we select only the best file transfer vendors for you. We offer independent, honest advice on suitable software solutions and implementation strategies that suit your business goals.
Find out more about our File Transfer software products.
Why choose HANDD?
HANDD is widely known as 'the independent voice of file transfer and data security'. But what does independence really mean?
Although we partner with the leading providers of file transfer products, we remain focused on selecting the best solutions based on their merits. We do not have specific products to push – instead, we recommend the solution that works best for your enterprise.
Our independence is matched with our expertise. We are trusted by more than 400 customers throughout Europe, the Americas, the Middle East and Asia. We recommend, source, implement and support file transfer solutions for customers around the world. We can do the same for you.