*These fields are required.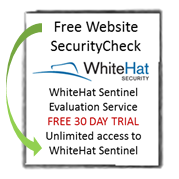 Discover how effective and how secure your current website security is with SecurityCheck. This WhiteHat Sentinel evaluation service is now available as a free, 30-day trial. You will have unlimited access to WhiteHat Sentinel in order to review results, generate reports and share findings with your developers and security management team.
These days, you never know where website attacks will breach your defenses – from within your custom website code, third-party services providers, you name it. The WhiteHat SecurityCheck will assess the real-time risk of your site, identify vulnerabilities and report the results – along with an action plan for keeping your site 100% secure – continuously.