WhiteHat Sentinel PreLaunch (PL)
Find Vulnerabilities Earlier So You Can Increase Website Security While Reducing Costs
WhiteHat Sentinel PreLaunch (PL) extends WhiteHat's SaaS model to provide fast and accurate vulnerability assessments that enable users to assess and fix website code for preproduction/staging environments. When combined with other WhiteHat Security services – Sentinel Premium Edition, Standard Edition, Baseline Edition – Sentinel PL delivers ongoing vulnerability management and protection in both preproduction and production environments, identifying vulnerabilities earlier in the software development process and strengthening website security at launch.
The longer the time between the development and discovery of security vulnerabilities in software, the greater the cost and time to fix them. Besides decreasing the cost of detecting and remediating vulnerabilities, finding them earlier in the software development lifecycle also helps mitigate the risk of exposure.
Based on your business priorities, Sentinel PL may be configured to select the exact combination of speed and frequency that enables your developers to fix vulnerabilities quicker – and more cost effectively – than ever.
Seamless Integration With The Tools You Already Use – Sentinel PL seamlessly operates within existing preproduction frameworks and timelines, and requires no additional software on the user's desktop or build servers, ensuring there is no impact on software delivery deadlines.
Increase in Overall Security – Significant reduction in real risk to the business by finding and fixing vulnerabilities before they reach live, production websites
Shorter Remediation Times = Lower Development Costs – Reduces both remediation time and costs significantly
Preproduction Assessments
Fast Assessments
Flexibility in Scan Configuration
Highly Accurate Results
API Integration
Vulnerabilities Assessed by WhiteHat Sentinel – Delivered through a SaaS model, WhiteHat Sentinel identifies and custom tests each Web application to identify the most common vulnerabilities such as those in the OWASP Top 10 and WASC Threat Classification, including SQL injection and cross-site scripting (XSS).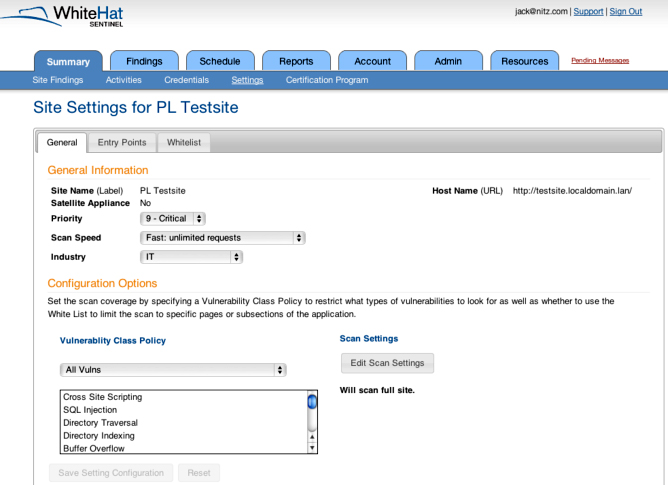 WhiteHat Sentinel 30 Day Free Evaluation with SecurityCheck
Discover how effective and how secure your current website security is with SecurityCheck. This WhiteHat Sentinel evaluation service is now available as a free, 30-day trial. You will have unlimited access to WhiteHat Sentinel in order to review results, generate reports and share findings with your developers and security management team.
These days, you never know where website attacks will breach your defenses – from within your custom website code, third-party services providers, you name it.
The WhiteHat SecurityCheck will assess the real-time risk of your site, identify vulnerabilities and report the results – along with an action plan for keeping your site 100% secure – continuously.
SIGN UP NOW →