WhiteHat Security
Premium Website Security with WhiteHat Sentinel
Managing hundreds or even thousands of websites? Tired of the costs, chaos and confusion that come with countless security specialists, solutions and outside consultants?
Welcome to WhiteHat Sentinel – the industry's most accurate, complete and cost-effective Web security solution for protecting any website operation of any scale, continuously.
Unlike traditional website scanning software or consultants, WhiteHat Sentinel is the only solution to combine an advanced, cloud-based security platform with a team of security experts of the WhiteHat Security Threat Research Center (TRC) who act as a critical extension of your team. Together, this combination helps secure sites for customers in the toughest, most regulated industries, as well as across the Web.
Web Security Doesn't Get Any More Scalable – Or Easier – Than This
Thousands of websites are already managed by WhiteHat Sentinel – including sites in the most regulated industries, from e-commerce, to finance, to healthcare and more.
All With Predictable Costs – And Far Less Chaos
All the costs involved in building a scalable infrastructure and technology are built into the WhiteHat Sentinel Service. There are no upfront investments to make, no headcount required, no hardware or software to purchase.
The WhiteHat Security Solutions
WhiteHat Security provides solutions to identify and remediate website security vulnerabilities in all stages of the Software Development Life Cycle (SDLC). The WhiteHat website security solutions can be found below:
Finds vulnerabilities in the development cycle – so you can increase website security while reducing costs.
Read more →
Sentinel PL provides fast and accurate technical vulnerability assessments specifically designed for preproduction websites, enabling users to assess and fix code prior to production deployment. Read more →
Baseline Edition (BE) – The foundational solution for covering all your website assets or for protecting basic, less-critical sites
Baseline Edition Enterprise – The foundational solution for covering all your website assets or for protecting basic, less-critical sites, designed to be a massively scalable "best value" solution designed to fit any environment
Standard Edition (SE) – Designed for websites that are permanent fixtures, but are not necessarily mission-critical. SE tests for and verifies technical vulnerabilities including issues involving multi-step forms and logins.
Premium Edition (PE)– Ideal for websites that are permanent, mission-critical, and governed by compliance requirements (think transactional, forms-based capabilities). It offers business logic testing as well as all testing offered by SE.
Read more →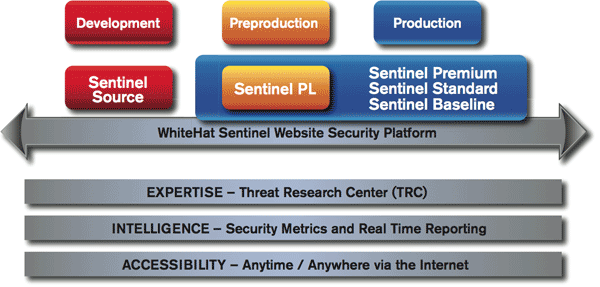 WhiteHat Sentinel 30 Day Free Evaluation with SecurityCheck
Discover how effective and how secure your current website security is with SecurityCheck. This WhiteHat Sentinel evaluation service is now available as a free, 30-day trial. You will have unlimited access to WhiteHat Sentinel in order to review results, generate reports and share findings with your developers and security management team.
These days, you never know where website attacks will breach your defenses – from within your custom website code, third-party services providers, you name it.
The WhiteHat SecurityCheck will assess the real-time risk of your site, identify vulnerabilities and report the results – along with an action plan for keeping your site 100% secure – continuously.
WhiteHat Security Resources
Click on the the filter to show the type of resource you would like and then simply choose which resource you want to download.  To review a list of all resources please visit the resource centre.