Varonis Data Governance Suite
The Varonis® Data Governance Suite provides organizations the ability to keep pace with their data, manage access entitlements efficiently and effectively, audit access to every file event, identify and involve data owners and find and classify sensitive and business critical data. Varonis offers a comprehensive and effective solution for data governance using a scalable and extensible metadata framework. The Varonis® Data Governance Suite provides actionable intelligence about your data, workflow that directly involves business users and data owners and automation that reduces the burden on your organization's IT resource.
The Varonis Data Governance Suite is made up of the following components:
Varonis DatAdvantage addresses significant data management and protection challenges such as permissions, access auditing and data ownership across a range of platforms. The DatAdvantage range is made up of:
DatAdvantage for Windows
DatAdvantage for SharePoint
DatAdvantage for Exchange
DatAdvantage for Directory Services
DatAdvantage for UNIX/Linux
Read more →
Data entitlement management belongs with data owners – after all, they are the ones accountable to the enterprise for the data. However, assuming IT can identify data owners, several challenges such as entitlement reviews, authorisation workflow, accountablility and policy enforcement arise. Varonis® DataPrivilege® addresses these challenges with a configurable web interface that brings IT, data owners, and users together in a self-service portal for automating access authorization, entitlement reviews, policy enforcement (e.g. ethical walls), and compliance reporting. Read more →
A single terabyte of data usually contains about 50,000 folders; many are likely to contain files that might be considered sensitive. Data classification technology promises to help find sensitive files, but finding them is just the beginning. Then, the difficult challenges arise:
Who has access to them?
Who is using them?
Who owns them?
Where are they most at risk?
Which ones are stale?
Policy Enforcement: How can we make sure data owners and end users adhere to organizational policies?
The Varonis® IDU Classification Framework® addresses these challenges by providing visibility into the content of data across file systems and SharePoint sites, and then integrating it into the Varonis Metadata Framework™. Classification information is then presented in the DatAdvantage interface, enabling actionable intelligence for data governance, including a prioritized list of those folders with the most exposed permissions AND containing the most sensitive data, who has access to that data, who is using it, who owns it, and how to effectively limit access without disrupting business processes. Read more →
Moving data around isn't easy. In fact, it can be downright nerve-wracking to move critical data under strict time constraints, with little or no downtime, while ensuring that data is accessible to the right people—and only the right people—when it gets to the destination. And what about electronic retention policies, defensible disposition of data, and storage tiering? These days, archiving and deleting data can be even harder than moving it. The Varonis Data Transport Engine solves a number of critical challenges. Read more →
Resources: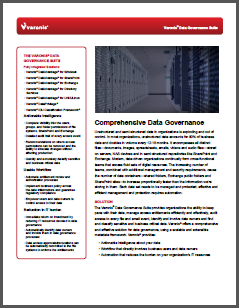 Varonis Data Governance Suite Data Sheet