TITUS Classification for Microsoft Office
Data Classification Integrated with Microsoft Office
If there is one software suite that almost everybody uses it is Microsoft Office. Word documents, PowerPoint presentations and Excel spreadsheets are essential commodities in modern business, used for internal and external communication on a daily basis.
But as Microsoft Office is used so frequently, the files that it creates inevitably contain sensitive and confidential data. It is your job to make sure that every person that sees your enterprise's files knows the security classification of the contents.
TITUS Classification for Microsoft Office – Streamlined Classification
TITUS Classification for Microsoft Office is a security and governance solution that enables organisations to ensure that documents created in Microsoft Office are handled correctly.
The system is highly customizable, but some common uses include forcing users to classify the sensitivity of every document, adding persistent watermarks, and automatically scanning documents for personally identifiable information.
With this classification data stored in metadata, the system can also alert users when they open confidential documents and connect with the rest of your data loss prevention solution.
Add easy to use data classification to Microsoft Office. Find out more in our free Data Sheet or contact us for a free WebEx demo.
Key Features and Benefits
Let the people that understand the contents of documents define their classification. TITUS Classification for Microsoft Office allows users to classify documents from within the familiar Microsoft Office interface, and also applies visual markings including watermarks to make classification clear to every single viewer.
Make sure that your users know whether data should be shared. TITUS Classification for Microsoft Office raises user awareness to encourage proper information handling, and TITUS metadata can also be used to enhance your overall data loss prevention strategy. What's more, TITUS Classification for Microsoft Office allows you to enforce policies as users work on documents.
It is your obligation to meet the strict demands of compliance and government standards. By enforcing classification on every single document, TITUS Classification for Microsoft Office can help you meet your regulatory requirements.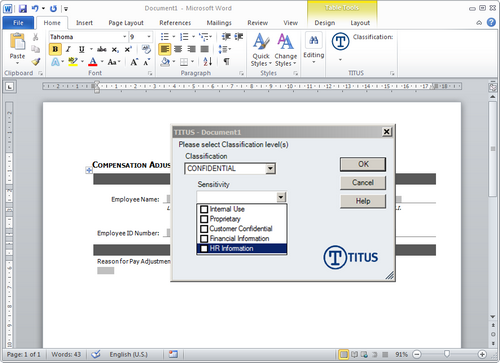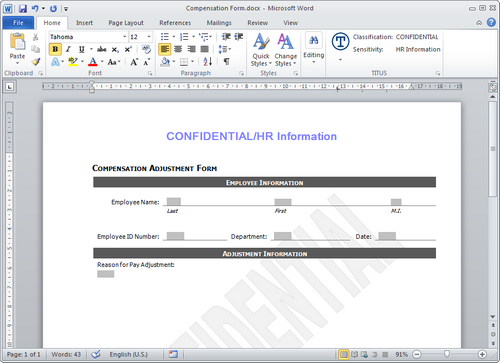 TITUS Classification for Microsoft Office is fully interoperable with other TITUS classification solutions, including Message Classification, Classification for Desktop, and SharePoint Security.