Verdasys have announced availability of its cloud-based Managed Service for Cyber Defense (MSCD), a fully managed, outsourced service for companies and government agencies that need to prevent increasingly sophisticated malware and persistent cyber attacks from stealing sensitive data.
MSCD leverages Verdasys' Digital Guardian data protection platform by making it available via a hosted service,  extending its unique visibility into all data transactions and systems events as well as data exfiltration blocking with new capabilities for multi-layered prevention, detection, containment and investigation of targeted cyber attacks.  The new managed solution provides organizations with service-based visibility and control over human and application exploit based cyber attacks, as well as visibility and containment control over the expansion, data access, manipulation and exfiltration stages of a data targeted attack.  MSCD is uniquely capable of detecting and preventing cyber attacks on endpoint devices on or off the enterprise network infrastructure.  Additionally, it is designed to work  with a variety of next-generation firewalls, virtual and cloud-based web malware protection systems and SIEM solutions, without costly investments in technology and staff specialists required for an on premise cyber defence solution.
"Most companies want to step up their cyber attack defence, but the prospect of implementing and maintaining a kill-chain defense covering all stages of an attack is beyond their abilities, a market reality that is signaling a clear need for an effective, expert-managed cyber defence service," said Larry Brock, president of Brock Cyber Consulting and former CISO at DuPont.  "Verdasys is leveraging its expertise in cyber threat defence from a user and malware behavior perspective, together with its ability to control applications, system and data events on endpoints, whether on our outside the network. "
Verdasys' new MSCD leverages the company's Digital Guardian technology platform used by more than 240 global 2000 customers and government agencies, with more than 2 million DG agents actively deployed in 40 countries.  Since its first operational deployment in 2003 and the subsequent launch of the Verdasys Managed Service for Information Protection in 2012, Verdasys data security experts have been operating the Digital Guardian solution for organizations that need a full Data Loss Prevention (DLP) solution.
MSCD's cyber defence capabilities contrast with previous generations of signature-based anti-virus and intrusion detection products, which address only known threats and offer little in the way of zero day attack prevention.   MSCD complements next generation firewalls and network malware prevention systems by focusing on host environments (laptops, desktops and servers) where the malware must operate successfully to complete a successful attack, while covering systems both on and off the network.  The new cyber defence service uses deep host system event visibility and correlation to see activities and anomalies that define cyber attacks and applies policy-based prevention and containment controls quickly and effectively across the entire enterprise to stop the attacks, regardless of the number of machines infected.
All customers of the managed service offering also join a real-time intelligence gathering and correlation network, since any detected attack at any Verdasys customer is immediately correlated and policies created to prevent and contain attacks as soon as they are developed.  With hundreds of Verdasys global customers collecting real time intelligence, prevention and containment defence can be deployed across the MSCD network in hours, not weeks or months, offering effective defence against zero day and sophisticated cyber attacks.
"Customers in large global companies and the federal government already know what Verdasys is able to see and do when a cyber attack occurs," said Jim Ricotta, Verdasys president and CEO.  "With the new managed service, we're able to bring vastly improved attack detection rates on and off network, rapid containment of malware thru targeted and highly effective controls, decreased response time for detection and investigation,  and deliver a much lower-cost 'kill chain' defensive approach that prevents malware from compromising targeted data. "
Verdasys Solutions Delivered by HANDD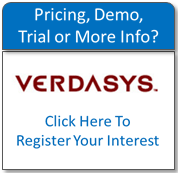 HANDD Business Solutions are the Verdasys reseller and integrator for the UK, Singapore and Malaysia.
Verdasys  totally protects and manages the flow of data essential to the operation of businesses on a global basis.
By focusing on protecting data at the "Point of Use", Verdasys Digital Guardian solutions are uniquely capable of preventing information leakage, or loss, across the global enterprise, including its extended partner/supply chain.
Visit the Verdasys product pages to learn more about the Digital Guardian Enterprise Information Protection platform. Alternatively, to request more information, pricing, a demo or a trial, please click here.
Source: Verdasys.com