SSH Communications Security, known the world over as the inventor of the ubiquitous secure shell and SFTP protocols, today announced the addition of the SSH Key Discovery Service to its Universal SSH Key Manager™ solution portfolio.  The new service and solution suite is designed to help enterprises assess information technology risk, secure visibility and gain control over their secure shell access management systems.
A typical enterprise environment can house well over one million SSH user keys, many of which grant high administrative access to a large number of servers. Over time this proliferation of keys – coupled with the fact that the keys are rarely rotated or removed – has created major security risk and compliance issues in many large enterprises. The new SSH Key Discovery Service solution provides enterprises with full visibility and management over security and compliance issues within their secure shell environments, delivering an essential first step in asserting control over encrypted networks.
SSH Key Discovery Service Key Facts:
Supports organizations seeking to assess the scope of their SSH access control issues
Leverages battle-tested experience from deploying the largest SSH key remediation projects in the world to help customers rapidly prepare their network environments for the discovery process
Captures a complete current-state analysis of the SSH user key environment
Calculates security risks and compliance issues and lays out next steps to reduce the threat of exploitation
Richard A. Weeks, president of the Americas, SSH Communications Security, said:
"A growing number of highly-regulated enterprises, driven by a steady increase in IT audit findings, advanced persistent threats and spiraling industry requirements, are coming to us to better understand the real risks associated with their unmanaged secure shell environments.  Our new SSH Key Discovery Service sets financial, retail, energy, government agencies and large enterprises on the right path to an improved infosecurity posture and increased operational efficiency, while providing full visibility and control over their secure shell deployments.  With our unmatched expertise in SSH key discovery and lifecycle management, we deliver peace of mind, regulatory compliance and a clear pathway to a fully-controlled, auditable SSH user key environment."
SSH Solutions delivered by HANDD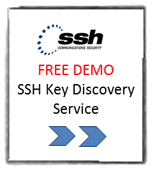 SSH Communications Security is the inventor of the secure shell (SSH) protocol, the gold standard for data-in-transit encryption. HANDD Business Solutions are a global SSH competency centre and premier SSH reseller.
Secure shell is used across the world for managing secure environments, and through the Information Assurance Platform, SSH and HANDD deliver the most comprehensive centralized secure shell management solutions available on the market.
HANDD not only provide the software, but also offer a number of professional SSH key management services including consultancy, installation, training and support.
To learn more, book an SSH Key Discovery Service demo today.
Original Press Release: SSH.com