HANDD and Globalscape to demonstrate how to ensure company data is shared securely throughout your business community
Reading, UK (PRWEB UK) 11 December 2012 – In response to well publicized high profile data breaches at large organisations such as Yahoo (http://www.bbc.co.uk/news/technology-18811300) over the last 12 months, HANDD Business Solutions, (http://www.handd.co.uk) the UK's leading independent Data Security experts, and Globalscape, industry leaders in the Secure Managed File Transfer market, vow to help organisations stop data loss when file sharing, in turn protecting the public's sensitive personal information.
The data security drive begins this month with a series of free on-line seminars aimed at educating IT managers on how to secure their data on the move.
Enterprises of all sizes and across all industries have a need to exchange information between worldwide offices, customers, and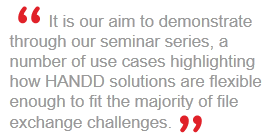 partners. File transfer still remains one of the most common ways for companies and organizations to exchange data. However, as more data is exchanged internally and externally, the need for more efficient and secure means of moving sensitive and important data has become prevalent. This need has brought about the evolution of flexible Secure File Transfer solutions.
On the Globalscape and HANDD seminar series, the first of which is on December 12th 2012, (http://www.handd.co.uk/events/), Ian Davin, CEO HANDD commented:
"It is well recognized by most companies today that using disparate FTP servers, unencrypted email and dropbox type solutions to exchange data leaves a company open to the risk of Data Leaks and subsequent reputation and legislative consequences. There is a common misconception that this problem is a difficult one to solve. "
With a flexible secure file transfer solution companies can automate and centralize both massive and ad hoc data-movement processes, give employees an easy way to exchange files, improve audit oversight and embed security controls such as policy-driven encryption and access control.
Davin Continued "It is our aim to demonstrate through our seminar series, starting on 12th December 2012, a number of use cases highlighting how HANDD and Globalscape solutions are flexible enough to fit the majority of file exchange challenges, with fast and simple deployment."
HANDD's implementation expertise and Globalscape's easy-to-use, flexible file sharing platform is trusted by thousands of enterprises around the globe, including many of the FTSE 500 and government agencies. Globalscape allows organizations to customize a solution to meet their specific needs, including stringent compliance requirements such as PCI, FIPS, HIPAA, DPA and more.
About HANDD Business Solutions
Reading, UK based HANDD Business Solutions Limited works closely with leading brands in Secure File Transfer, Data Loss Prevention and Website Security. HANDD provide data security solutions and services for some of the largest public and private sector companies across Europe, Middle East and Asia. For more information on HANDD please visit http://www.handd.co.uk/