WhiteHat Security, the advanced website security providers, today announced it has been listed at No. 80 on Forbes' annual ranking of America's Most Promising Companies following its recent receipt of a $31 million strategic growth investment from JMI Equity and Investor Growth Capital (IGC). Forbes America's Most Promising Companies list is comprised of 100 privately-held, high-growth companies with bright futures. Company CEO Stephanie Fohn, was also listed as one of 11 women leading high-growth private companies.
"We are honored to be recognized by Forbes, and see this listing as validation of the continued commitment that we make to our customers everyday," said Fohn. "Websites are the number one attack vector for malicious hackers, and have been for the past several years. We will continue to work diligently with our customers to ensure that their websites are secured throughout the entire software development lifecycle."
This latest recognition follows a year in which the company saw the number of customer websites it protects nearly quadruple from 3,000 to 11,000 and a customer retention rate of 95 percent. Utilizing its latest round of strategic funding, WhiteHat will look to provide stronger support for the small-to-medium-sized enterprise (SME) market as well expand its presence and partnerships internationally in 2013.
To determine the America's Most Promising Companies list, Forbes strove for a holistic gauge of young, privately-held companies, trying to pin down their trajectories by looking at a slew of variables. Over the course of six months Forbes reviewed thousands of applications. The final assessment is based on growth (both in sales and hiring), quality of management team and investors, margins, market size and key partnerships.
In addition, Forbes worked with CB Insights, a Manhattan-based data research firm that specializes in assessing private companies, to refine the search. Their MOSAIC software scans 45,000 sources to measure a company's health. A new distribution deal, for example, marks a positive signal, while the loss of an executive is a negative. MOSAIC gathers those myriad signals into a final score that Forbes uses as an initial guide in producing the list. After verifying sales numbers, speaking with each company and debating their merits and blemishes, Forbes produces a final ranking.
The full list can be viewed at: http://www.forbes.com/most-promising-companies/list/.
Source: WhiteHat Security
Website Security Solutions from HANDD
HANDD Business Solutions, the UK's leading Data Security and Secure File Transfer experts, offer premium web application security solutions with WhiteHat Sentinel – the industry leading premium website security solution.
Sentinel website security ensures real-time website security with an unlimited number of vulnerability scans and a team of real people monitoring your web assets all year round, offering a far greater level of security than traditional penetration testing methods.
Free Website Security Risk Check Report – WhiteHat 'RiskCheck'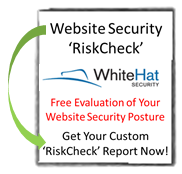 One of our essential resources, the free Website Security RiskCheck Report from WhiteHat Security draws anonymous website data collected from organizations comparable to yours to create a custom risk profile of your Web Applications based upon your survey input.
RiskCheck survey results use real time data and are matched against other organizations in your industry of the same size. Your custom RiskCheck report will provide insight into how your website security stacks up against other organizations of the same caliber.
It is important to note that this website security risk check is completely non-invasive. Your website is not scanned. 'RiskCheck' instead uses anonymous data collected from comparable organisations websites, ensuring an accurate risk assessment without the invasive nature of common website security scans and risk checks. Get your Website Security RiskCheck Report now! →