File Transfer Software Comparison Charts
Easily and Quickly Compare the Best File Transfer Software
Part of our essential resources collection, the Comparison Matrix of Managed File Transfer Vendors and Comparison Matrix of Ad Hoc File Transfer Vendors provide a simple yet detailed breakdown of the best File Transfer Software available today through HANDD.
Displayed in an easy to read tick box table format, the visual charts enable readers to quickly identify the key features and benefits of the file transfer software, saving you hours in research time and helping you identify which products offer the functionality your business requirements demand.
The charts are compiled by our in-house technical experts, who put the HANDD Certified File Transfer Software under the microscope every month. The comparison charts are updated monthly to ensure all the information is current and up-to-date in line with each new software update and release – vital in the increasingly dynamic secure and managed file transfer market of today.
What's inside?
The Comparison Matrix of Managed File Transfer Vendors and Comparison Matrix of Ad Hoc File Transfer Vendors highlights and compares the key features of the software so you can easily and quickly identify which software does what. You can view some of the key areas of consideration featured in each of the comparison charts below.
Operating Environment
LDAP/AD Integration
High Availability
Encrypted Data in Transit
Ecrypted Data at Rest
Web User Interface
Web Administration
Data Manipulation
File Non-repudiation/CRC
IP blacklisting/Anti Hammering
Strong Password Policies
AS1/2/3 Support
Secure Messaging and Ad Hoc File Sharing
MS Exchange/Outlook Integration
Data Loss Prevention Component
Multiple Authentication Databases per Host
Web Farm
Active-Active
Active-Passive
Warm Standby
Store Files in DMZ or Stream via Gateway
Appliance
FIPS Compliant
Rules Engine/File Workflow
Single Signon
SAN Storage
Open FTP Client Access
Role based Admin
X509 Certificate Support
Virus Detection
Licence Model
Auto Resume Failed Transfers
Transfer Compression
PGP Support
PCI DSS Compliance
Remote Administration
Operating Environment
Browser
Outlook Client
Encrypted Data at Rest
Java Required
Licensing
Ability to Send to Unregistered Users
Invite Users
Self Register
Blacklist/Whitelist Domains
Secure Messaging
Reply Secure
Revoke
Deploy Manually
Deploy Silently
Outlook or Proprietary Attach Button
Outlook or Proprietary Send Button
Secure Message Option
Configure Locally
Configure Centrally
Encrypted File Storage in DMZ
SSL/TLS
Manage Embedded Files
Blacklist/Whitelist IPs
Deliver Credentials Manually
Password Protect
Set Expiry
Limit Downloads
Enforce Usage
Role Based Admin
Set Policy Globally
Virus Detection in Transmission
Automatic Cleanup of Files and Temporary Accounts
Set Policy by File Type
Set Policy by File Size
Enforce Policy by File Type
Enforce Policy by File Size
Reporting
Remote Administration
Other Research Resources
Our comparison charts are vital tools when it comes to File Transfer project research and preparation, but they are not the only essential resources we recommend. Why not take a look at our free eBook, 'The Definitive Guide to File Transfer'.
The guide is written only by professionals; experts in File Transfer who have got their hands dirty working on numerous customer projects, so it is all personal experience that is shared here.  Nothing is written without application, and in this book we share our vast knowledge and experience to help you with your file transfer project research.
Learn more
 or 
download the free eBook
 now!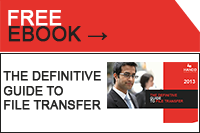 Also, have a look at the HANDD Managed File Transfer ROI Tool. The tool calculates your potential annual Return On Investment (ROI) over a ten year period, highlighting how the implementation of a Secure and Managed File Transfer software solution can provide significant annual financial savings and a healthy ROI.
Learn more
, or 
download the Managed File Transfer ROI Tool
 now!
[/section]