Recent news from our Asia Regional Office highlights how the message about Data Classification is spreading far and wide, as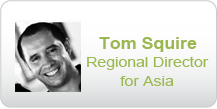 organisations of all types and sizes from across the globe are starting to recognise the need to implement an effective Data Classification policy. Tom Squire, our Regional Director for Asia, shares his recent experiences from the Far East…

It's been an interesting few months on the TITUS Data Classification front in Singapore, Malaysia and the Philippines. What has been most interesting about it is the diversity of companies and industries that want to talk to me about their classification requirements, and their search for suitable software to enforce a solid data classification policy.
When I first took on this role I expected to be focusing on those industries that we traditionally associate with being security and classification conscious – banks, insurance companies, government agencies, the military and so forth. However, while these industries are certainly regularly expressing interest in our TITUS offerings, such as email and document classification, I have been quite surprised at who else wants to know more.
Over the last months I have spoken to whom I originally expected to – banks, insurance companies and so forth. But I've also spoken with airlines, consultancy companies, IT system integrators, entertainment companies, manufacturers, energy companies, telcos, and more. Even a kindergarten chain!
One particular company comes to mind, and they have been a great education for me. This very large organization is in the agriculture space. When I first met them they presented me their classification and data loss prevention strategy. I was taken aback as to how well they had thought through their processes and plans. How they had already realized the value of implementing a data classification policy as the starting point for a successful data loss strategy. They had really done their homework, and it certainly made my job much easier. During the meeting, as a part of my due diligence, but also more out of curiosity, I asked them why was an agricultural company moving down this path – and moving down it so methodically. The answer was simple. They have farms and processing factories all around the region, and many of them are in remote locations. In such places, the competition is often in a factory across the dirt road from them. And in such places, it is very easy for staff to leak confidential information out to the competition. Hence, they needed to put in processes, and tools to support those processes, to prevent such data leakage.
The lesson is that security and classification is a concern for everyone. Every company in every industry has information that is critical for them. Whether it is valuable customer data, contract information, financial details, designs for new products, employee information, credit card details, or whatever– everyone has data they do not wish to lose.
What is also heartening, is that companies are beginning to understand the importance of a solid data classification policy in the security process. DLP systems engage in a very important task, but without user classification they have serious weaknesses. This is the TITUS message and it is a great experience to be bringing this message to our region."
TITUS Classification Solutions delivered by HANDD
HANDD Business Solutions and TITUS have a well established partnership and together provide a full range of TITUS software solutions as part of our comprehensive Data Loss Prevention solution portfolio.
TITUS email and document classification solutions help enterprises enforce their classification policies and prevent inadvertent disclosure of sensitive information. Products include:
HANDD offer free 30 day evaluations and WebEx demonstrations of all the TITUS products in our software range, as well as a number of comprehensive professional services including Data Loss Prevention consultancy, installation, training and support.