EFT Development Server™ provides a playground where business managers, IT administrators, and other authorized users can create, test, and experiment with new business logic before promoting the changes to the production server. The EFT Development Server mirrors the EFT Server production environment, but is isolated from it, providing a safer, smarter approach for creating new rules and modifying existing ones.
Using EFT Development Server, you can meet new requirements without disrupting current operations. The approach avoids risky ad hoc changes on the production server where business processes are ongoing and time is often not available for extensive testing. Now you can create new rules and workflows and test them thoroughly, monitoring their effect on current activity while working offline, independently of the production server.
Globalscape File Transfer Solutions delivered by HANDD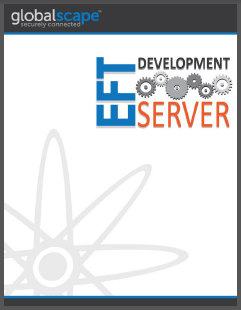 HANDD Business Solutions and Globalscape have a well established partnership and together provide a full range of Globalscape software solutions within the File Transfer and Data Management domain, including EFT Development Server™ for existing EFT Server  users.
Download the EFT Development Server™ White Paper today to learn more about this powerful dedicated development server.
Alternatively, if you wish to demo or purchase EFT Development Server please contact us.