This year at Infosec Europe, HANDD are co-exhibiting with Linoma Software. Linoma provides innovative technologies for protecting sensitive data and automating the movement of, and our focus at Infosec is on GoAnywhere, the secure managed file transfer (MFT) solution from Linoma.
GoAnywhere is comprised of three components – 1) GoAnywhere Director – the Managed File Transfer component that connects to almost any server or data source using a wide variety of standard and secure protocols – an ideal solution for automated and scheduled batch transfers. 2) GoAnywhere Services – an on-premise secure FTP server (and optional web server) that allows trading partners and employees to connect to your system and exchange files in a secure environment, with extensive management controls and audit log reporting. 3) GoAnywhere Gateway – which acts as an enhanced reverse proxy that provides an additional layer of network security.
Topping the List of Concerns – Dropbox
But it wasn't system to system batch transfers, scheduling or automation that was on people's minds yesterday however. Instead, the issue of insecure person–to-person file transfers and the use of Dropbox and other insecure consumer file sharing & sending tools prevalent within their organisation topped the list of concerns.
It was a regular occurrence to hear CISO's and the like bemoaning the lack of visibility, security and control they and their teams have when staff are sending potentially sensitive company files and data via these insecure consumer tools. Indeed, with auditors breathing down their necks, it soon became clear the majority now recognised there is a real risk that they will not meet their compliance obligations when such practices are prevalent, not to mention the risk of potentially damaging data leaks.
Enter the GoAnywhere 'Secure Mail module', a part of GoAnywhere services.
The Secure Mail module allows employees to send messages and unlimited size attachments securely on an ad-hoc basis. Recipients, instead of receiving the attachment as they normally would, get an email with a unique password protected link allowing them to download the message and files through a secure HTTPS connection. The link can be set to expire based on time (hours, days etc.) or by number of downloads. One of the stand-out features of this 'Dropbox replacement' is the ease of use for end users. Using either a seamless Outlook plug-in or intuitive web browser interface, users can very easily send and share files securely. For compliance and auditing, all data transfers are logged and monitored.
The interest in this solution was staggering on day one at Infosec Europe and we have little doubt the same will continue today and on Thursday!
'Dropbox Replacement' Demo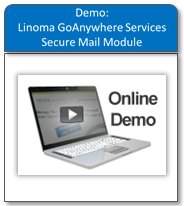 If you are interested in learning more about Secure Mail as a Dropbox replacement, you can register now for a free demo with one of our technical team. Alternatively, please don't hesitate to contact us directly on +44 (0) 845 6434063.
Come and Visit Us at Infosec Europe
If you're attending the event, you can come and visit HANDD and Linoma at stand C95. We also have a presence this year on the SSH, Globalscape and WhiteHat Security stands, so come and find us!