Data loss can cause significant problems for any business, particularly if they are responsible for handling confidential or sensitive information. Data Loss Prevention is an increasingly important concept as businesses are becoming ever more mobile with data being sent and received using handheld devices, laptops tablet computers.  A DLP solution can be implemented to prevent unintentional loss of sensitive business information and it operates by identifying specific content, tracking where this content is commonly distributed and blocking sensitive data from being removed or lost. The software is particularly useful primarily because of its ability to;
Undertake deep packet inspections across all 'traffic' including emails and monitor complete sessions
Conduct statistical and linguistic analysis for keyword matching
Identify, block and control the usage of specific content based on particular rules or protocol
There are three main categories within a DLP solution; network tools, host tools and systems. Each of these work effectively both individually and collaboratively to eliminate the threat of data loss and they operate to not only monitor but block any potential channels where data could be lost or stolen.
Implementing a successful DLP Solution
It is important that careful planning and consideration is taken when implementing a Data Loss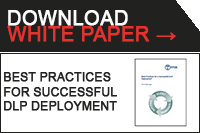 Prevention system to ensure that networks have the capacity to support the tools and the solution is installed correctly. Think about network requirements as all DLP solutions require certain gigabit speeds to operate effectively and an incorrect gigabit speed can have a detrimental effect upon the effectiveness of the DLP system. It is always advisable to ask the IT team to conduct a DLP tool pilot before any implementation to ensure that the system operates as it should with the data contained within business systems and networks.
It is good practice when businesses are implementing any data loss prevention solutions that all employees are informed. They will need to be aware that the information they send and receive is being monitored and encourage them to foster effective data management practices as well as raising awareness of the importance in protecting sensitive and confidential business or client information.
When planning a Data Loss Prevention system, consider what types of data that you would most like to safeguard and where you would like the solution targeted, whether it is for information sent and received over the internet or emails communications sent by employees. In addition, as organizations deal with such a broad range of information it is important that employees are fully aware of the information stored on equipment they are using, particularly if the devices are handheld computers or laptops.
A well thought out data loss prevention solution can be an effective way to ensure that your organizational data is consistently safeguarded and the threat of lost or stolen information is significantly reduced or even eliminated.