With the smartphone and tablet boom of recent years, employees are increasingly relying on BlackBerry, iPhone and Windows Mobile Devices and Tablets to stay in touch while on the go. While this has improved business collaboration and communication, it has raised various security and compliance concerns.
Mobile devices can become a security concern if the device is lost or temporarily misplaced
In order to protect sensitive information, organizations may want to restrict the kind of email that can be sent to a mobile device. TITUS Message Classification has the ability to filter messages being sent to a mobile device,  allowing organizations to control what type of emails can be sent.   Administrators can define exactly what classifications can be sent.  For example, some organizations may wish to block emails classified as 'INTERNAL' or 'SECRET' from being sent to mobile devices.
The TITUS Message Classification solution interoperates with various platforms to allow classification of email both on the Microsoft Outlook desktop as well as mobile devices.
Key Benefits of Mobile Email Classification
Prevent Data Loss
Reduce the likelihood of inadvertent information leakage
Automate encryption on email
Raise Awareness
Automatically apply subject line and message body markings
Clearly identify sensitive information with visual markings
Comply with Regulations
Ensure sensitive information is not sent to a mobile device or tablet
Eliminate the need for mobile clean up after a security breach
Encourage proper handling of sensitive information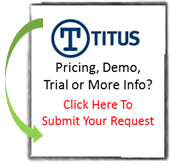 To learn more about TITUS Classification from HANDD, or to request a trial, demo or pricing, please click here to submit your request. Alternatively, please contact us on +44 (0) 845 6434063.